It was not until focusing on the experiences of other groups of victims who survived the concentration camps, and perceiving and examining their experiences in more depth as issues and development of childhood in general, that a more intensive psychiatric debate took place.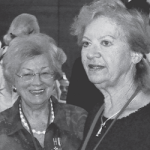 Stephanie Seltzer (on the right side), president of the World Federation of Jewish Child Survivors of the Holocaust and Descendants (WFJCSH), points out how much she and many other child survivors were affected for decades by society's opinion that the approximate 10 percent of all the Jewish children still living in Europe were the lucky ones. Only a few of them had experienced a concentration camp and most of them were too young to be able to remember this. (Photo © Stephanie Seltzer)
It was not until much later that the view emerged in the medical and psychiatric sector that the children had certainly suffered trauma even if they had not been immediately aware of the terrible experience; or if they assumed that their parents had given them away because they did not love their child sufficiently.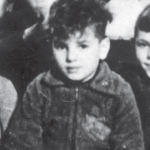 Fred Lessing (Born 1936 in The Hague, Netherlands, survived by hiding in half a dozen hiding places)
»I've left that whole world behind and I am a champion of feelings now. I love feelings and I'm never apologetic about them, including my own tears which often come up while I talk.
[… What my feelings were during the Holocaust?] The first answer is nothing; you don't feel anything; you cannot feel what is going on because it is too traumatic. If you let yourself feel what is really going on and how dangerous it really is, then you won't survive, then you'll just end up a puddle of fear. It's not something you consciously decide; it's called fight or flight.« (Photo © Yad Vashem)
Sara Bialas-Tenenberg "I was 13 when I was put in the Groß-Rosen concentration camp. My concentration camp number is 34803. I was left alone in this world. I suffered severely in the concentration camp and after liberation went through hell again because I did not know that my parents had been murdered and that I had nobody." (Photo © Sara Bialas-Tenenberg)